Clustering Virtual machines can reduce the hardware costs as compared to traditional costing on Physical machines.
Cluster Components
1) Virtual Machines
2) Network card
a. One Private card for cluster communication
b. One Public
3) Shared disks
4) Supported Operating System
5) Supported disk format
Types of Cluster
There are three types of Cluster configuration supported by VMware.
1) Clustering Virtual Machine on a single Host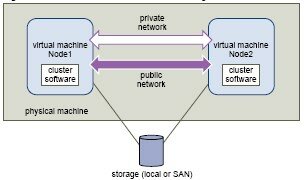 Figure1: This figure is taken from VMware's MSCS Guide
2) Clustering Virtual Machines Across Physical Hosts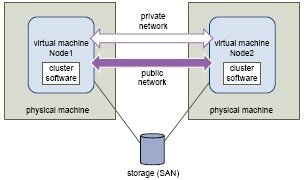 Figure2: This figure is taken from VMware's MSCS Guide
3) Clustering Physical Machines with Virtual Machines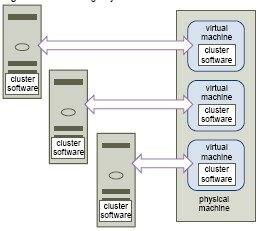 Figure3: This figure is taken from VMware's MSCS Guide
Hardware, Software & Storage requirement for MSCS
No matter which type of Cluster you use there are few common settings that you have to do to make VMs work in a cluster environment.

Component
Requirement
Virtual SCSI Adapter
LSI Logic Parallel for Windows 2003
LSI Logic SAS for Windows 2008
Operating System
Windows 2003 SP2
Windows 2008 R2
Virtual NIC
Use the default type for all guest OS. Add this before adding of the other disks used in Cluster
I/O timeout

Set to 60 seconds or more. Modify HKEY_LOCAL_MACHINE\System\CurrentControlSet
\Services\Disk\TimeOutValue

If you reconfigure your cluster the system might reset this I/O timeout value. You will have to reset the value in that case.

Disk format
Use eagerzeroedthich format either by selecting Support clustering features such as Fault Tolerance OR use vmkfstools cmd
NTP Server
Synchronize domain controllers and cluster nodes with a common NTP server, and disable host based time synchronization when using clustering in the guest.
VM Hardware Version
7
Adding additional disks for Cluster
Always use a new SCSI controller for example (SCSI (1:0)
Storage Requirement
| Storage Type | Cluster in a Box | Cluster Across Boxes | Standby Clustering |
| --- | --- | --- | --- |
| Virtual Disks | Yes (recommended) | No | No |
| Pass-through RDM (Physical Compatibility mode) | No | Yes (recommended) | Yes |
| Non-Pass-through RDM (Virtual Compatibility mode) | Yes | Yes | No |
MSCS Setup Limitations

The following environments and functions are not supported for MSCS setups with this release of vSphere:
Clustering on iSCSI, FCoE, and NFS disks.
Use of MSCS in conjunction with VMware Fault Tolerance.
Migration with vMotion of clustered virtual machines.
Use of MSCS in conjunction with VMware Fault Tolerance.
N-Port ID Virtualization (NPIV)
With native multipathing (NMP), clustering is not supported when the path policy is set to round robin.
You must use hardware version 7 with ESX/ESXi 4.1.

Caution

if you try to clone a VM with an RDM setup the cloning process converts the RDMs to virtual disks. Unmap all RDMs before cloning, and remap them after cloning is complete.
Add networking before disks. Refer kb – http://kb.vmware.com/kb/1513
If you are using Cluster across Boxes and the OS us Windows 2008 – VMware will not support virtual compatibility mode for RDM's.
Use the STORport Miniport driver for the Fibre Channel (FC) HBA (QLogic or Emulex) in the physical Windows machine on Standby Host clustering
Do not run multipathing software in the physical or virtual machines on standby host clustering
Use only a single physical path from the host to the storage arrays in standby host configurations.

HA/DRS Configuration in MSCS

All hosts that are running MSCS virtual machines can be part of a vCenter Server cluster with both VMware HA and DRS enabled.
For MSCS virtual machines in a cluster, you must create VM-VM affinity or anti-affinity rules.
VM-VM affinity rules specify which virtual machines should be kept together on the same host (for example, a cluster of MSCS virtual machines on one physical host).
VM-VM anti-affinity rules specify which virtual machines should be kept apart on different physical hosts (for example, a cluster of MSCS virtual machines across physical hosts).

Steps to Enable strict Enforcement of Affinity Rules

In the vSphere Client, right-click the cluster in the inventory and select Edit Settings.
In the left pane of the Cluster Settings dialog box, select VMware DRS.
Click Advanced Options.
In the Option column, type ForceAffinePoweron.
In the Value column, type 1.
Click OK.
MSCS Checklist
Requirement for Cluster Disks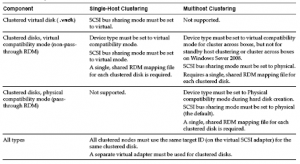 2. Other Clustering Requirements and Recommendations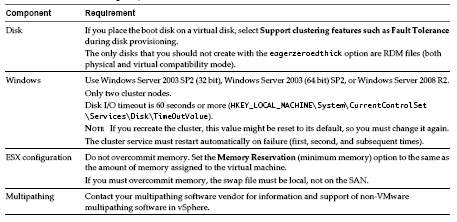 3. Required info for Technical support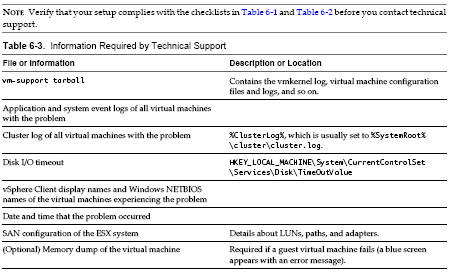 Check these sites for additional information
http://exchangeexchange.com/blogs/bkeane/archive/2007/07/30/mscs-clustering-in-vmware.aspx All though this site is not meant exclusively for vSphere4.1 but it still gives good info about the MSCS.
http://communities.vmware.com/message/1491688?tstart=0

http://www.sysprobs.com/setup-windows-2008-cluster-vmware-workstation Setup Win2k8 R2 Failover Cluster in VMware workstation
http://www.virtuallifestyle.nl/2010/01/recommended-detailed-material-on-rdms/
Disclaimer: Most of the above information is taken from VMware's MSCS guide.